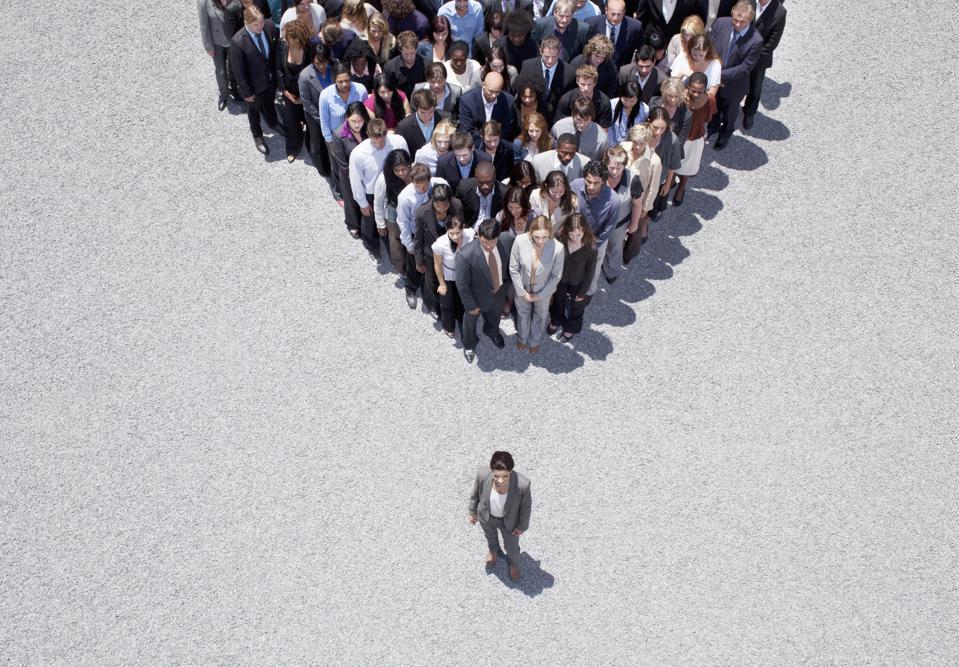 You know you are on the rise in the corporate world when you receive the nudge to write a book about your leadership style, your exceptional backstory and the "secret leadership sauce" that led to your team or business units' precipitous success. I regularly look at the Times' bestseller list and see a bevy of nonfiction leadership titles from the latest and greatest business minds (and their ghostwriters). If you're seeking the latest trends in leadership, you can be assured that someone is writing about it. Are you unsure how to navigate the generational divide in the office? Someone's writing about it. Psychology for the C-suite? Accountability 101? The methods and madness of remote work? You can find a hundred titles or more on each.
With all this expertise available in hardcover, softcover or digital formats, is there anything else to say or read about leadership?
Yes, something basic: inspiration. All the phenotypes of leadership hold inspiration in common. If you cannot inspire, you cannot lead.
Back in the late nineties, Austrian researcher Johannes Steyrer wrote a pithy book entitled Charisma and the Archetypes of Leadership. While a highly technical read, Charisma attempted to consolidate leadership styles into four concise categories. The categories are not important for this conversation; however, the binding agent found in all four — charisma — is worth a closer look.
What is charisma? Your full definition may differ from mine, but I am confident that we can all agree that charisma includes one's ability to inspire. From political candidates to professional athletes, religious leaders to Hollywood's leading actors, those who can connect with an audience, hold the audience's attention and move the audience to respond are the ones we label as charismatic, and moreover, inspirational. But charisma is more than a look, a clever tongue and a likeability factor. It's about a particular presence in a crowd; a presence that moves the crowd.
The 'Juice'
Leaders inspire. In every environment, leaders are the ones who inspire. So, who are the leaders in your surround? Here's a hint: They may not be those with the lofty titles and the big corner offices. The salesperson who always lowers her shoulders and keeps seeking the sale — even when the economy stinks — is inspiring others to exhibit some grit in the down cycles. She's leading. The 20-something coder who remains convinced that the glitch in the logistics software can be repaired, even after everyone else has given up, is leading. Even the entry-level assistant who calls everyone on the floor by name and wants to know "how he can help" make his colleagues work a bit easier is leading.
So, you have an MBA from Wharton, a prestigious internship and a leadership fellowship on the resume? Good for you. But, can you inspire? Do you have the juice to pick up the team and point them toward the prize when all the external indicators insist that a backslide is ahead? Will you walk on ahead after everyone else is no longer walking?
Nature Or Nurture?
Some say that one's ability to inspire — one's charisma — is innate. You have it or you do not. I contend that you can develop and tweak charisma just as you might learn how to craft a strategic plan or execute a marketing strategy. The researchers agree. A 2012 study conducted by John Antonakis, Marika Fenley and Sue Liechti of the University of Lausanne and detailed in the Harvard Business Review found that charisma is a "learnable skill or, rather, a set of skills that have been practiced since antiquity." Called charisma leadership tactics (CLTs) by the research team, these charisma skills, like goal-setting and the persuasive use of oratory, are sharpened through intentional preparation and practice. While CLTs cannot make a Martin Luther King out of a Mickey Mouse, anyone can develop a serviceable ability to inspire those they are tapped to lead.
Do You Have The Juice?
It's time to be honest with yourself. Do you inspire? Better yet, ask someone you trust to answer the question on your behalf. If you earn golden marks for charisma, then continue to hone your natural ability. If charisma is not your thing but you are interested in becoming a leader and not just a manager, then do your homework and discern what you will need to do to enhance your inspirational acumen. Who knows, you may even write a book about your story, success and secret sauce a few years down the road.