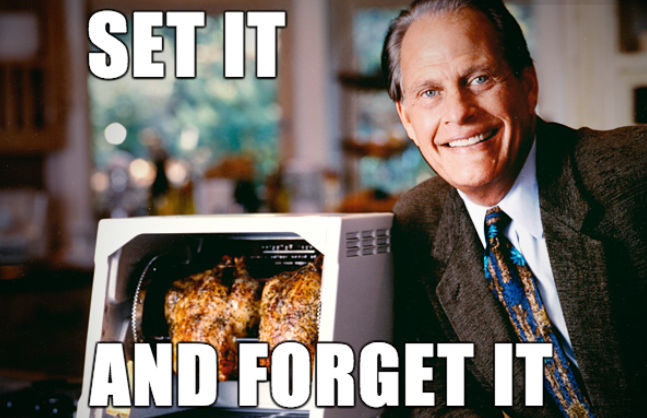 Creating a Savvy Sales Culture
I've rented a cottage for a relaxing summer retreat and often find myself drifting into work mode (part of why I don't subscribe to work/life balance, rather, the philosophy that it's all just "life"). I found myself quickly entering work mode as I turned on the TV at the cottage found myself intently watching an old infomercial featuring the Ron Popeil "Showtime Rotisserie." Do you remember the contraption? Skewer your hunk of meat, season and infuse it with all your favorite flavours, put the meat in the rotisserie, and then "set it and forget it." I have no clue if the "Showtime Rotisserie" could deliver a quality roast or not, but I do know that tens of thousands of units were sold. The key to the home cooked rotisserie's success? The sales prowess of its inventor, Ron Popeil. Before selling his company Ronco in 2012, Popeil had become a staple of the infomercial, peddling everything from his specially designed kitchen knives to tabletop pasta makers. Popeil, who grew up in poverty on the streets of New York City, is worth over $200 million today. While Popeil recognizes that his inventive abilities brought the products to the marketplace, he also knows that his sales skills in front of cameras and customers built his brand and fortune.
I recently shared a great article written by Eric Janssen about the focus on innovation and the lack of sales talent and sales education. When I watched this infomercial, I couldn't help but think about this article and reflect again on the sales training required to be successful, especially in the era where a majority of buyers have done research before they even arrive to the boardroom. I suspect that some of the most successful entrepreneurs on the planet would coalesce around two vital qualities: great ideas/innovation and great sales ability. In established businesses, the same qualities lead to success. When strong products and/or services and successful sales abilities intersect, business grows. In my own experience in the corporate world, I've come to appreciate the power of thoughtful and intentional commercial sales training. Conversely, when our teams are not equipped with effective sales and relationship strategies and techniques, we all feel the pinch of missed sales targets and the inability to attract new clients and revenue. I'm not insisting that everyone from R&D to accounting become certified sales associates, however, I am saying that every business needs relevant and ongoing commercial training that's provided to a larger corporate audience than one might expect.
The Problem with the "Event"
Companies spend millions of dollars a year on the annual or semi-annual "Sales Event." Often held at a flashy, offsite venue, the sales event typically intermingles several days of keynote-type training sessions with fun activities, vendor receptions, and cocktail hours. While sales events certainly boost corporate morale and provide great networking opportunities, they seldom deliver on their actual purpose – honing sales skills. Participants tend to forget what they've learned at these events, and these tend to be focused primarily on product or service education versus true soft skills and the opportunity for the real-time practice of techniques (I personally HATE role play but recognize that this technique works well for many). Studies show that without consistent practice and reinforcement of new techniques, salespeople lose most of the newly acquired information and skills within one year of the "Event," reverting to old practices.
Consistency and Reinforcement
Save the big events for celebratory milestones, like obtaining key client meetings or meeting sales objectives, and use the banked time and money for frequent and relevant soft skills sales training. Focus on education around how to research prospective clients, how to develop authentic relationships, how to listen effectively and how to help solve problems and identify solutions.
Ron Popeil believes that he is an inventor first, but, in a close second place, a salesman. He's right, of course. In this era of specialization and specificity, every one of us seeks niche skills that help us standout in the marketplace. However, all of us must develop sales savvy if we seek to market our skills and/or our services to those who are buying. It begins with the investment in both effective training and thorough practice and reinforcement.
Creating a Savvy Sales Culture