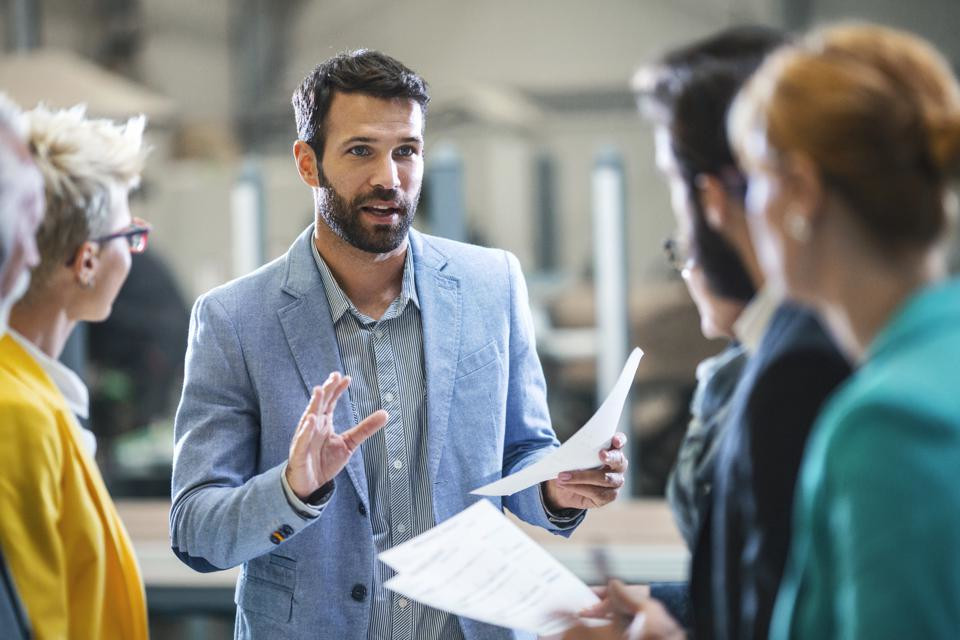 Human, Hybrid, Human-Centric: Three Business Trends To Prepare For In 2022
The wise William Vaughan once quipped, "An optimist stays up until midnight to see the New Year in. A pessimist stays up to make sure the old one leaves." Is it fair to say we enter 2022 with a smattering of both optimism and pessimism within us?
Last year was hard on the home and business fronts for most of us. With the pandemic sticking around, divisiveness remaining entrenched in our politics, and numerous supply chain issues wreaking havoc on an already fickle economic recovery, we've had plenty of trauma to endure in the year that was. But, as my colleagues at Fjord reported, "We're starting to see — at scale — an era of post-traumatic growth take shape, which promises a shift to people's lifestyles."
At the heart of the shift is workers' growing sense of agency. The pandemic, especially, continues to open our eyes and schedules to the importance of cultivating and caring for relationships and ourselves. Organizations that honor this shift may thrive; those that don't will certainly falter. And with that, I offer three trends I believe we should look for in 2022 and beyond.
Continuation Of The Great Resignation
In late 2020 and early 2021, people started to leave their jobs in droves. From my perspective, the reason is that many workers have experienced a reordering of work-life balance and developed a focus on the purpose and impact of what they do and the environment they choose to do it in. Face it: In a crisis, we all tend to reevaluate our priorities. When the crisis is of global magnitude, reevaluation can touch every home, business and community.
Amid the pandemic, some people discovered that mandatory quarantines, work-from-home mandates from businesses and school closures led to a lot more time with family and heightened opportunity to care for body and soul. So, as the calls to return to legacy settings were issued, a lot of great workers decided, "No, I'm good." People across all industries decided not to return to their legacy roles or companies and/or make a complete shift altogether.
I believe the Great Resignation will continue in 2022, meaning most organizations will need to adjust who and how they recruit and retain employees. Companies will also need to adjust for smaller teams, hybrid work settings and workers who will not surrender their agency.
The Humanized Organization
In 2022, businesses that choose to humanize their management of teams will be well-positioned to thrive beyond the present trauma. Workers who don't see the Great Resignation as a great option are looking to their employers to provide flexibility in work settings. A survey by Ernst & Young, for example, found that 90% of employees "want flexibility in where and when they work." Based on my observations, workers want spaciousness for family and leisure time, as well as empathy in the office.
Again, agency is in the conversation here. If an employee doesn't feel supported by colleagues, leaders and the broader business environment, they'll leave for an organization that can provide all of the above. In 2022 and beyond, I look for more businesses to offer flexibility and hybrid schedules to employees; provide free therapies for those experiencing fatigue, grief, etc.; and invest in projects, priorities, and employee and leadership development that nourish a positive work culture and environment.
Human-Centric Leadership
For leaders, the big trend to look for in 2022 is an emphasis on human-centric leadership. No, this doesn't simply mean welcome baskets for new employees or office singing sessions on Friday. This is all about empathy. Leaders who demonstrate emotional intelligence and empathy — the ability to meet employees where they are situated in life — are best equipped to lead in an era of agency and options. Are you a human-centric leader? If not, make 2022 the year you learn how to connect with your employees and be vulnerable about your own story.
Optimist or pessimist? I'll take the former as my entrée and the latter as a side. I can understand why any among us would be pessimistic in 2022 as we step beyond the year that was. But we're leaders, right? And leaders model what they desire from those they lead. I'm choosing optimism in a landslide. What about you?