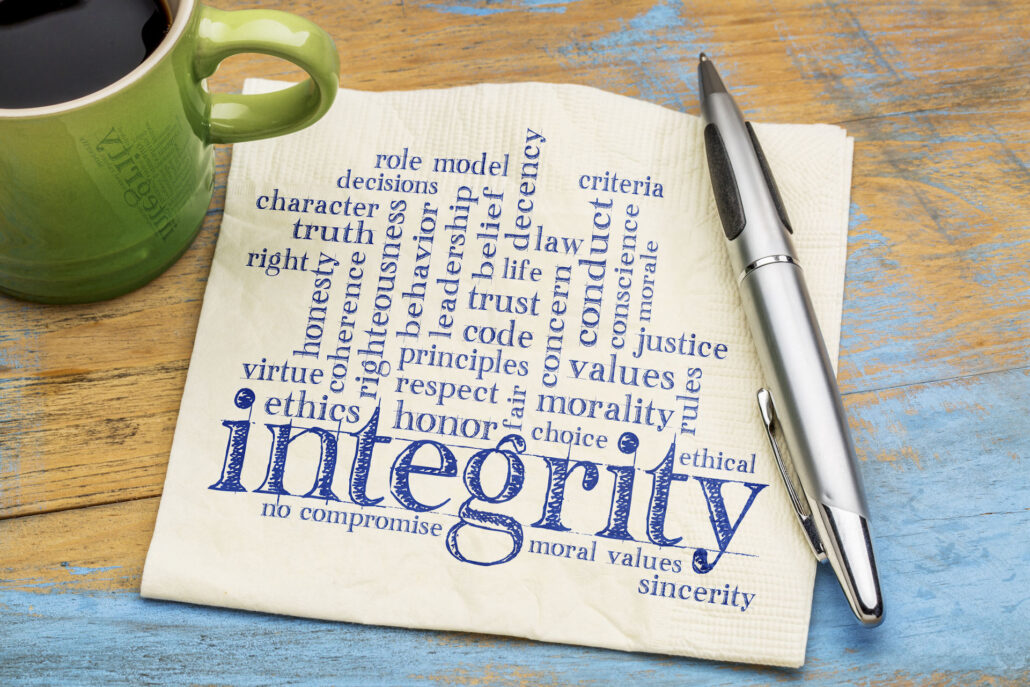 Character not Accolades
A number of years ago, a news story broke about a leader who was rising through the ranks of a large retail organization. This leader, a gifted communicator and a deft strategic planner, excelled in his position as one of the company's top spokesperson. When the time came for the big promotion, many of this leaders' colleagues assumed that he was a shoo-in for the executive position. But wait! A simple background check would undo his career entirely. On his resume, this leader listed a particular university as the institution that had awarded him a bachelor's degree some two decades before. What he failed to mention was that he never actually graduated. In fact, he had no degree at all. This intentional, dishonest act revealed his shaky character. The retailer's leadership team decided that, as a result of this dishonesty, he was unfit to lead.
What's on your shortlist of must-have leadership qualities? Ability to move an audience, craft a vision, and equip a team to succeed? Sure, leaders need all the above. Great leaders often exhibit exceptional intellect as well, and a willingness to make bold moves while the crowd is still pacing the sideline. But dig deeper to find something even more critical to successful leadership. Character. Your leadership flows from your character. If the latter is shaky or in short supply, the former does not exist at all.
The late Norman Schwarzkopf, the Allied leader of the First Gulf War, famously said, "Leadership is a potent combination of strategy and character. But if you must be without one, be without the strategy." Hellen Keller, model of grace under fire, offered this insight on the subject of character: "Character cannot be developed in ease and quiet. Only through experience of trial and suffering can the soul be strengthened, ambition inspired, and success achieved." What do we glean from these two leaders who speak from different eras and contexts? Character is essential to leadership and character is often forged in the crucible of trial.
It's Essential
Healthy organizations are led by individuals who serve with integrity. When a so-called leader is character-deficient, members of the leader's team can become demoralized by the questionable judgement and actions of the person with the title and authority. Indeed, no one enjoys working for a snake oil salesperson. Over time, members of the team will begin to parrot the character of their superior, engaging in like patterns of behavior that erode the office environment and degrade performance. Those who have an avenue for escape will take it, reducing the organization's talent. Character-deficient leaders tend to put their interests above the team's and the organization's interests. Conversely, high-character individuals embody trust, collaboration, and concern for employees and the organization. These leaders will inspire their team to work creatively, collegially, and courageously, leading to higher levels of success and organizational satisfaction.
Forged in Trial
High-character leaders exhibit exceptional grit in times of duress. A high-character leader will never ask a member of the team to engage in a challenge that she is not willing to take on herself. When character is among a leader's strongest gifts, they will always seem to hold the team together when the challenges are especially vexing. Further, these leaders are accountable for mistakes, shortfalls, or an unrealized vision. When things do not work out, the high-character leader evaluates the process, tweaks the vision or implementation strategy, and leads the team in a renewed engagement toward unrealized goals.
Not About Advancement
Those who lead with integrity, exhibiting unshakeable character, measure success by how their organizations perform and how the members of the team grow. While they may acquire some financial rewards, public recognition, and perhaps a promotion or two along the way, high-character leaders will never place their legacy above their duty to their various constituencies. Are you a high-character leader? If so, ensure that you model it for the people in your circle of influence.